July 21, 2006 | 03:56PM a SGT

** Football Fever. Live it with eBay**
1000 Limited Edition Serialised eBay Footballs were given out over the past 5 weeks and response to 'Guess the Number of Footballs' contest was overwhelming!



10 eBay Footballs belonging to eBay members have been shortlisted for the Grand Draw.
Winner will drive away a *Volkswagen New Beetle!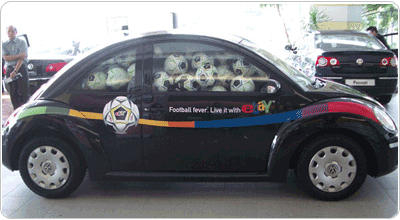 Listed below are the FootBall serial numbers which have been shortlisted: 
0483
0184
0010
0251
0552
0878
0442
0750
0380
0868
0748
0405 
* terms and conditions apply 
Thank you to everyone who had participated! We hope you had fun!
Good luck to the 10 eBay members who are holding on to the shortlisted Footballs! Check out the Annoucement Board on Monday to find out who won!
Regards
The eBay Singapore Team