September 08, 2008 | 10:59AM a MYT

Having peace of mind goes a long way when you're buying online. That's why eBay and PayPal offer various types of buyer protection coverage for items you purchase on eBay. Coverage depends on where you purchase your item and how you pay for it. Read on to learn more about our buyer protection programmes.
Coverage for your eBay items purchased on eBay.com.my:
eBay's Standard Purchase Protection Programme (SPPP), covers qualified transactions on the eBay.com.my site, except for items paid for with cash or instant money transfer services. The maximum coverage amount is up to RM750 , minus a RM95 processing fee. Learn more about the eBay Standard Purchase Protection Programme.
Coverage for your eBay items purchased internationally (not on eBay.com.my):
PayPal's Buyer Protection Programme (PBP) is designed to cover your purchases on eBay international sites when you pay using PayPal. Maximum coverage amounts will vary and are based on the site where you purchased your item. To determine eligibility and coverage on your item(s), look for the PayPal logo in the 'Buy Safely' section of the item description page. Learn more about eligibility or coverage amounts.
New! Even More Coverage for Your International Purchases on eBay.com.au!
PayPal's buyer protection coverage for items purchased on eBay.com.au has been increased from 3,000 AUD to 20,000 AUD for qualifying items paid with PayPal*. To know if your item is covered and get greater peace of mind, simply look for the 'Buy Safely' section when viewing your item on eBay.com.au.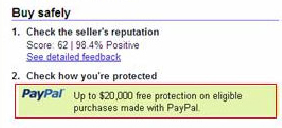 To learn more about PayPal's coverage amounts and qualification criteria, click here.
Regards,
The eBay and PayPal Teams
~~~~~~~~~~~~~~~~~~~~~~~~~~~~~~~~~~~~~~~~~~~~~~~~~~~~~~~~~~~~~~~~~~~~~~~~~~~~~~~~~~~~~~~~~~~~
*Note: Coverage applies to the full value of the purchase (including postage) for most eBay purchases. Items listed within certain categories are not eligible for PayPal Buyer Protection. Learn more about these exceptions. Other conditions may apply. The Buyer Protection Programme is subject to the terms and conditions in PayPal's User Agreement. The PayPal service is provided by PayPal, Inc. You should consider the Product Disclosure Statement (available at www.paypal.com) and whether the product is appropriate for you before deciding to use it.
Consumer advisory: The PayPal™ payment service is regarded as a stored value facility under Singapore law. PayPal Pte. Ltd., the Holder of the PayPal™ stored value facility, does not require the approval of the Monetary Authority of Singapore. Consumers (users) are advised to read the terms and conditions of use carefully.